Choh's Three-Point Play With 0.3 Seconds Left Gives Brown Win over Harvard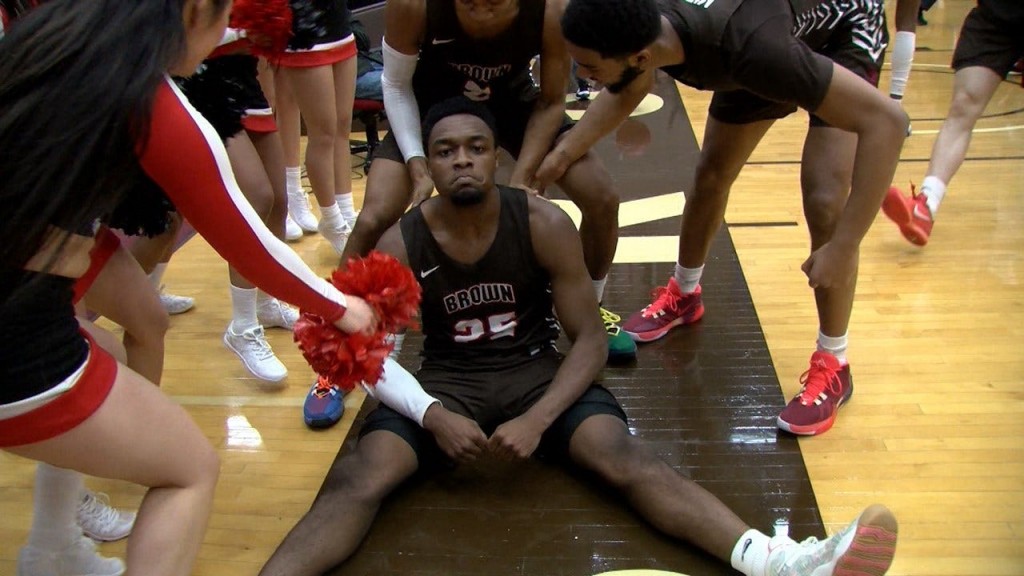 Junior forward Tamenang Choh (Lowell, MA) connected on a layup and free throw with 0.5 seconds remaining to lift Brown to its fourth straight win, a 72-71 come-from-behind Ivy League victory over Harvard on Saturday evening at the Pizziotola Sports Center.
The win lifts the Bears to 11-8 overall, 4-2 in the Ivy League, while Harvard drops to 14-7 overall, 3-3 in league play.
"That was a great college basketball game," said Brown head coach Mike Martin. "Harvard has size, strength, skill and is tough to defend. It's hard to win in this league, but our guys found a way."
In a game that saw 13 lead changes, Harvard took a 71-69 lead on a rebound and layup by Justin Bassey with 2.9 seconds remaining.
After a timeout, Brown freshman Dan Friday (Detroit, MI) threw a long pass to Choh, who called timeout with 2.6 seconds left, just past midcourt.
Senior Brandon Anderson (Mahwah, NJ) passed the ball in from the side to Choh, who faked giving the ball back to Anderson and drove to the basket. Choh connected on the layup with 0.5 seconds remaining and was fouled by Harvard's Robert Baker, tying the game, 71-71.
After a Harvard timeout, Choh went to the line and knocked down the game-winning free throw to give Brown a 72-71 win, its second straight victory over the Crimson, setting off a wild celebration.
Choh finished the game with 17 points, connecting on 5-11 field goals and 6-of-7 free throws, while grabbing six rebounds.
Anderson led all scorers with 22 points on 7-of-15 shooting from the field and 7-of-9 shooting from the free throw line. Senior Zach Hunsaker (North Salt Lake City, UT) also scored in double figures for Brown with 12 points.
Choh's final free throw accentuated Brown's advantage at the free throw line where the Bears connected on 28-of-32 free throws overall. Harvard went to the line 18 times and came away with 12 free throws.
Baker paced the Crimson with 18 points and eight rebounds. Noah Kirkwood (10) and Christian Juzang (10) also scored in double figures for Harvard.
The Bears and Crimson were tied, 39-39, at the half with Brown connecting on 18-of-20 free throws. Anderson's 11 points paced the Bears.
The final 20 minutes had eight lead changes with neither team leading by more than eight points.
Brown heads south for its first Ivy League road weekend, traveling to Philadelphia, PA to face Penn on Friday, February 14 (7:00 pm) and on to Princeton, NJ to battle Princeton on Saturday, February 15 (6:00 pm). Watch all the action on ESPN+ or listen on WPRV AM 790.