Christina Myers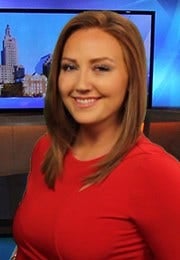 Christina anchors the 6 and 11 o'clock newscasts weeknights with John Deluca.
As a native Rhode Islander, Christina is very excited to be back home delivering the news to Southern New England.
Christina has worked previously as the Morning Anchor/Investigative Reporter at KAUZ (CBS) in Wichita Falls, TX. She then moved on to be the Weekend Anchor/Reporter at KGUN9 (ABC) in Tucson, AZ.
After graduating from LaSalle Academy, Christina earned a B.A. in Broadcast Journalism and Sociology from Hofstra University in New York.
When she's not working on the stories that matter to the community, Christina can be found working with her rescue horse, Autumn, who she adopted in Tucson.
Christina is passionate about telling meaningful stories that have an impact on your every day lives. If you have any story ideas, please feel free to email Christina at cmyers@abc6.com.