Fire Dept: Cigarette Ignited Fire at North Dartmouth Apartment Complex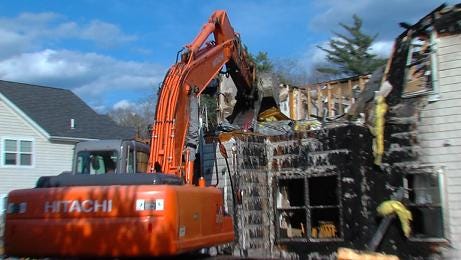 Residents try and save what's left of their homes today, after a fire tore through an apartment complex in North Dartmouth. Some people were able to salvage a few things, while others weren't so lucky.
In order for the people who live on the first floor to go inside and sift through their things,
the entire second floor had to be leveled.
A group of people watched as an excavator ate up their fire damaged homes in North Dartmouth. Sixteen units went up in flames at the Dartmouth Woods Apartment Complex on Easter evening.
Many of those who live there returned today to get inside their apartments for the first time since the fire broke out yesterday.
One couple who is getting married later this year, were able to pull together a pile of their things. Some pictures and a set of golf clubs.
Another owner clenches onto his cat Elmo, who he thought was dead, until a firefighter pulled him from a pile of rubble.
But not everyone was as lucky. Ashley and Karla Villatoro lived in a second floor apartment, right next door to where the fire started. The jaws on an excavator crushed a flat screen TV, among other things inside one of the second floor apartments.
"We just saw our daughters room get torn down," said Karla Villatoro.
The couple stood in disbelief as the reality set in, all of their things were gone.
"Everything's destroyed basically they told us it's pretty much gone, the beds, all the baby pictures, everything," said Villatoro.
The Villatoros will never get back all the sentimental things they built a life together with. Right now, they're hoping their insurance will cover what they need.
Villatoro said, "It should cover most things."
The North Dartmouth Fire Department tells ABC 6 the cause of the fire is most likely from a cigarette that ignited from debris on a second floor balcony.
A nearby animal hospital, Anchor Animal Hospital, is offering free check-ups for any animals who were victims in this fire.