City officials take notice of makeshift camp in city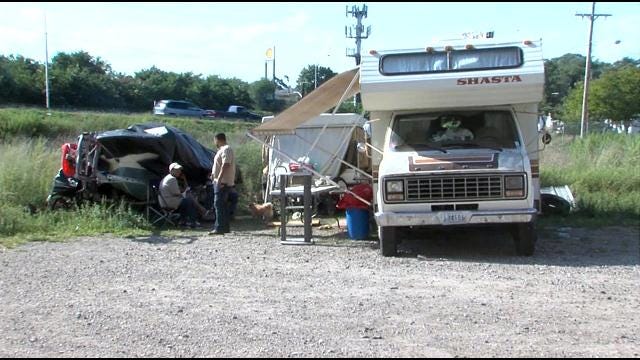 By Nicole Brazier
It looks like a campground with an RV, a pop–up, and a boat covered in a tarp but it's actually an empty lot across from a section 8 public housing complex where people are concerned about their unfamiliar, new neighbors.
"It is a little strange because, like, there's a lot of times I'll come in here late at night to check up on him and… you don't know who they are or what their intentions are," says resident Cheryl Turner.
Now housing officials are taking notice of the potential dangers for the entire community.
"We don't know if there's a pedophile in there, we don't know if there's any criminals in there, we don't know what nefarious activities they're doing, if there's any drug activity," says Carolyn Medeiros with the Alliance for Safe Communities.
Officials tell us that squatters have been setting up camp here for the last 2 to 3 months, in what seem to be unsanitary conditions.
"They're on city property, that's trespassing, residents have complained they've been in and out of the building, using showers in some of the apartments," says Medeiros.
We attempted to contact the people living in the camper but there was no answer.
The building manager at Huntington Towers has been made aware of the issue but housing officials say an opening for that position was recently posted and they're not sure who, if anyone, currently holds that title.
(C) WLNE/TV 2014