Classmates prepare for Tyler's birthday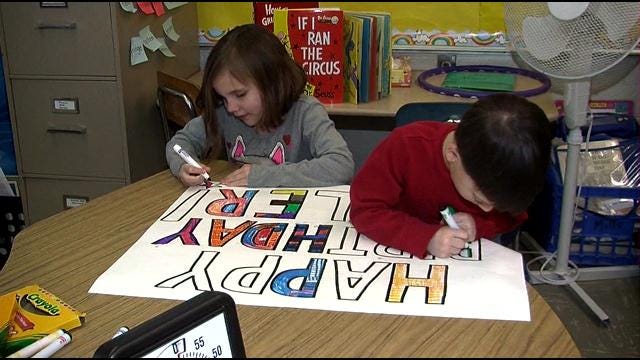 By Dana Griffin
dgriffin@abc6.com
@danaRgriffin
BURRILLIVILLE, RI– Details are being finalized for a community rally for the birthday of a 6–year–old Burrilliville boy battling leukemia.
Tyler Seddon's birthday bash includes being police chief for the day and having hundreds of police and fire officials escort him around town; making a special stop at his school.
Today, inside Ms. Avila's first grade class at Austin T. Levy Elementary School in Burrillville, it's been five months since Tyler has been able to sit with his friends.
"We used to write about each other when it was writing time. We wrote about how we were best friends," said Tyler's friend Aaron.
Principal, Julie Mayhew said, "So our plan is to have all the children in the school out in front of the building to wave and wish him happy birthday."
Tyler's class will be in front so they can show off a fire engine–shaped banner along with smaller ones they're creating today.
"It's been such a long time and I miss him so much. It's just that I keep seeing his name and I keep remembering him and I want him to be back in our classroom and I'm excited to see him on Thursday," said classmate, Anna Houlihan.
Tyler is in desperate need for a bone marrow transplant. Everyone's hopeful that his birthday extravaganza will show him how much they support him.
"Everyone is so excited to see him when he drives by. They're all hoping that he'll be able to exit his vehicle and give a few high fives and hugs because we really do miss him," said Tyler's teacher, Alison Avila.
©2014 ABC6/WLNE-TV. All Rights Reserved.