Cliff Walk Commission to paint orange 'love locks' black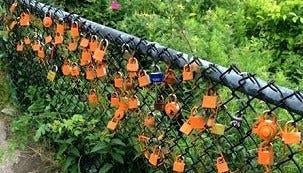 By The Associated Press
new@abc6.com
NEWPORT, R.I. (AP) _ The commission in charge of Newport's iconic Cliff Walk has decided to leave the "love locks'' placed along the walkway _ for now.
The "love locks'' began appearing in recent years and someone has sprayed them with orange paint, obscuring the messages on them. The locks are left behind by visitors as tokens of their love.
John Hirschboeck, of the Cliff Walk Commission, says the locks became "graffiti'' when they became orange.
The commission decided Wednesday to paint the orange locks black so they'll blend in with the fence. Commission Chairman Bob Power says the locks will probably still be removed in the future.
The Cliff Walk is a 3 1/2-mile public walkway between the ocean and some of the city's mansions. It is one of Rhode Island's most popular attractions.
(C) The Associated Press 2015