Clinical trial tests pill aimed at preventing Alzheimer's before it starts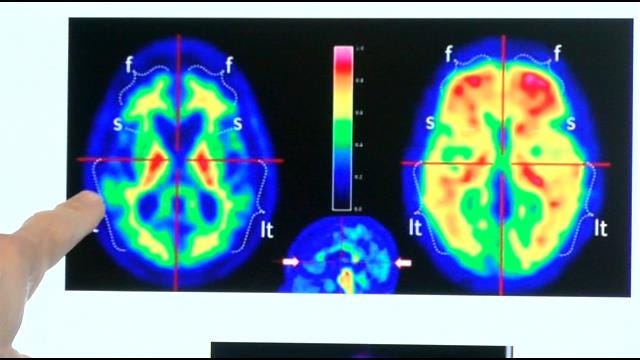 By: ABC6 News Staff
Email: news@abc6.com
Twitter: @ABC6
Reporting by: Melissa Randall
PROVIDENCE, R.I. (WLNE-TV) — A new medication aimed at stopping Alzheimer's before it even starts is in the works. The drug is being tested through a landmark clinical trial at Butler Hospital in Providence.
The drug is already giving new hope to local families touched by the disease.
David Creamer of Seekonk lost his father to Alzheimer's disease one year ago this month.
"It was gut wrenching to see your father, who had a wonderful life, starting to see him needing help with some of the most embarrassing things," he explained.
His father's life was filled with service to country and family. Then in 2011, Edward's memory began slipping away.
"One of the saddest stories I can remember, he said to me, 'I just wish I knew what was going on,'" said Creamer.
That is why David is so excited to hear about a new study going on right now in Rhode Island and around the world.
"The point of this study is to…stop the build up of amyloid in the brain in people who are healthy, but maybe have amyloid building up-and to stop Alzheimer's disease before it starts," said Dr. Jessica Alber, a cognitive neuroscientist, is the lead investigator for 'Generation 2'.
It is believed those deposits of plaque begin to occur 15 to 20 years before memory loss.
Dr. Stephen Salloway, Director of the Memory and Aging Program at Bulter, says the new pill could be the key to prevention.
"We're really talking about advances in science and brining it to people as quickly as possible and hopefully having a major impact against and important disease like Alzheimer's," said Dr. Salloway.
Creamer is hopeful that this might be the breakthrough he's been waiting for and encourages as many people as possible to participate in the trail.
"Maybe your body is the key to unlocking the cure, the medication, the medicine we need to cure this horrible disease," he said.
The trial is designed for cognitively healthy adults, age 60 to 75 years old, who carry at least one copy of the APOE4 gene and have a build-up of cerebral amyloid in the brain, both risk markers for Alzheimer's.
For more information, click here www.butler.org or call 401-455-6402.
©WLNE-TV/ ABC6 2017