Clinton: We just put the biggest crack in that glass ceiling yet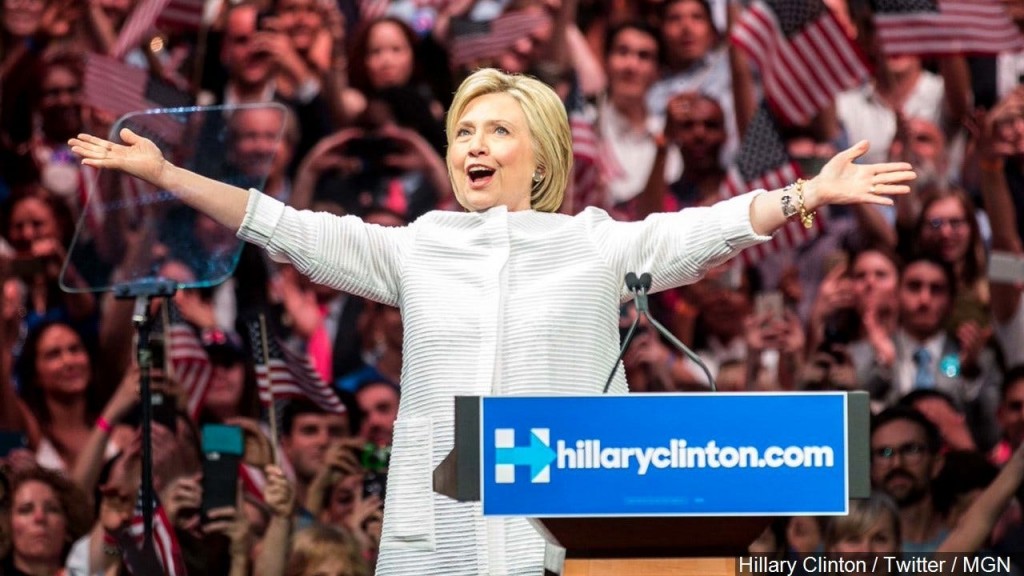 By: ABC News
news@abc6.com
Hillary Clinton is now the Democratic nominee for president, and Senator Sanders played a role, too.
"I move that Hillary Rodham Clinton be selected as the nominee of the Democratic Party for president of the United States!"
Hillary Clinton making history: "The ayes have it!"
An emotional roll call vote that made it official: she is the first woman picked to lead a major party ticket for president of the United States
In a ceremonial gesture, it was former opponent Bernie Sanders who moved to nominate Clinton unanimously by acclamation.
At the end of the night, Clinton herself making a surprise appearance from her home stated, "I can't believe we just put the biggest crack in that glass ceiling yet!"
There to make his case for why she should be elected, Bill Clinton, not as former president, but as supportive husband said, "In the spring of 1971, I met a girl."
Clinton illuminating the personal and in his view, presidential sides of his wife, "she's the best change maker I ever met in my entire life."
Also showing up to say "I'm with her" on the big night were Hollywood stars.
"According to Donald Trump, my body is probably like a 2," asserted actress Lena Dunham.
"According to Donald Trump, I'm a rapist," said actress America Ferrera.
And the mothers of seven black men killed in high-profile cases that sparked community outrage.
Tonight Pennsylvania Avenue comes to Philly as President Obama and Vice President Biden both will be giving speeches as well as Tim Kaine.
©WLNE-TV / ABC6 2016