Jury Deliberates in Officer's Civil Trial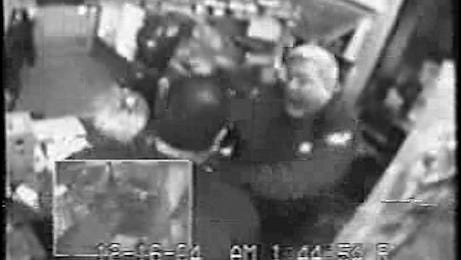 Its judgement day for a Providence Police officer being sued for allegations he assaulted a man he thought molested young girls. Officer Robert Kells was caught on surveillance video aggressively grabbing the man accused of child molestation.
Closing Arguments were given in Superior Court on Thursday. The jury has not yet reached a verdict.
Since the incident in 2004, the man he confronted, Ricardo Tavares, was cleared of the child molestation accusations.
Tavares says he's been emotionally damaged from the encounter and wants compensation.
It's now up to the jury to decide if Kells actions towards Tavares were excusable, or if they were in fact assault.
Patrolman Robert Kells actions in a gas station surveillance video, landed him in superior court.
Kell is facing civil allegations of assault, battery, false imprisonment, and emotional distress for the plaintiff, Ricardo Taveras, who worked at the Sunoco gas station in Pawtucket.
Kells has testified his actions were justified, having just heard allegations that Tavares molested his girlfriends niece and daughter. Kells said he needed to use the force he did to make sure Tavaras stayed away from the children.
Tavares was later cleared of the child molestation allegations and his attorney, John Reilly, says his client was wrongfully attacked.
In closing arguments Reilly said, "Kells clearly went to the Sunoco Station to deliver a message to Mr. Tavares who ultimately proved to have done nothing. Acting without just cause or excuse and he's admitted that at this trial."
Kells attorney, Michael Colucci, says his client's actions had the right intentions and since he was cleared of criminal charges, no compensation is deserved in the case.
Colucci said, "Given his motivation which was the protection of those kids and not the harm of Mr. Tavares. He did not beat Mr. Tavares he only grabbed the lapels of his jacket."
Tavares is asking for 100 thousand dollars in compensation, plus punitive damages. The jury began deliberation around noon Thursday. They are expected back to continue deliberation on Monday.