Coaching a Passion for State Police Colonel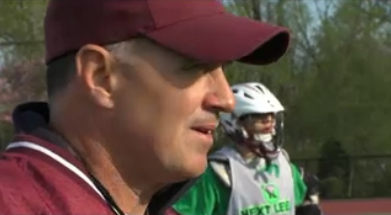 If being a colonel is a dream job, then coaching lacrosse at LaSalle Academy is Rhode Island State Police Colonel Steven O'Donnell's calling.
"I get 2 hours to clear my head. I think I become a better Colonel of the State Police when I get to get away from the job for a little bit. I'm a firm believer, if that's all you do… that's all you'll be," O'Donnell said.
He grew up a mile from the school in the Mt. Pleasant section of Providence, where he got his start in lacrosse after getting cut from the baseball team.
The cliff notes version of his career? The University of New Haven was where he went all New England
He coached at Providence College, and now he coaches at LaSalle. In 2006, O'Donnell was inducted into the New England lacrosse hall of fame.
In 2008, he was named coach of the year.
If there was ever any doubt about his passion for coaching or his loyalty to the children under his tutelage, that was answered last year when the governor was on the phone, offering him his dream job!
At the time, O'Donnell was the U.S. Marshall in Rhode Island. Appointed by Senator Reed, approved by President Obama.
He was also getting a very nice pension from all the years he served Rhode Island State Police, including six years of working undercover as a bookie in the Patriarca crime family.
He was ready to give all that up, but not coaching at LaSalle.
"I was committed to this team, and just to leave would be unfair to the program and to these kids," O'Donnell said.
If he left the team, who could blame him? Yes, they would be disappointed, but colonel of the State Police is not a 9-5 job. People would understand.
"I had to really think hard, my wife was the first person I talked to.. I talked to Senator Reed cause he's the one who appointed me through the President. I just thought that my dad always taught me to follow your instincts. I think I survived undercover work because I did and my instincts said that was the right thing to do and my closest friends said to do it," said O'Donnell.
The players are grateful he stayed. The respect and admiration they have for him is obvious.
"The highest person in the state for law enforcement is our lacrosse coach, and he cares about us like his own family. We are his family too, he is part of our family," said Dan Lucchetti, a senior captain on the LaSalle lacrosse team.