Coast Guard looking for owner of unmanned boat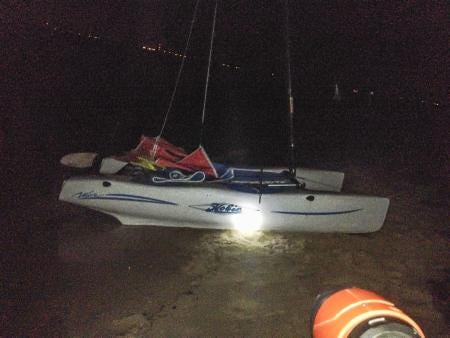 By The Associated Press
BOSTON (AP) _ The U.S. Coast Guard says it's looking for the owner of an unmanned sailboat that washed ashore on Martha's Vineyard.
Watchstanders in southern New England got a call around 10 p.m. Friday from local law enforcement about an unmarked 13-foot Hobie Cat "Wave" model that had washed ashore with its sail up and rudder down.
Authorities said it had lines hanging and dirty footprints on deck.
Boat and air crews searched the area for people in the water, but found no one. Local police also went door to door in search of the owner.
An aircrew searched again Saturday morning. The search area spans waters from the Vineyard to Naushon Island.
The Coast Guard says it's important for boat owners to document their vessels and make them easily identifiable.
© The Associated Press/WLNE-TV 2014