Coast Guard rescues man after boating mishap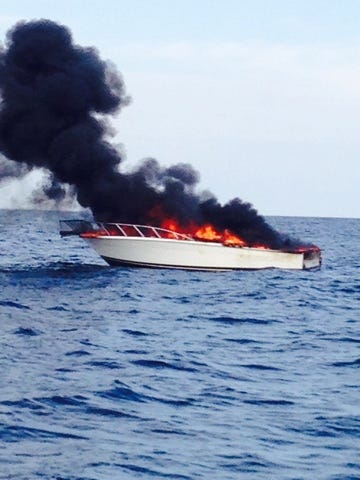 Joseph Krapf
News@Abc6.com
A man was rescued by the Coast Guard and a volunteer near the entrance to the Sakonnet River around 2:30 p.m. on Saturday due to his 38-foot boat catching on fire.
The Coast Guard received a call from the boat operator verifying that there was no one else on board but himself and that he had not had received any injuries.
The man abandoned ship into his 8-foot dinghy and about 15 minutes later he was picked up by another boater who then brought him to a 45-foot Coast Guard boat.
The Coast Guard brought him to their station where he was assessed by an EMT who then told him that he did not need any additional medical evaluation.
The boat some how caught on fire, both Portsmouth and Middletown fire departments sent out boats to put out the fire as the boat eventually sank.
The Coast Guard stated that the Portsmouth Blackfin 38-foot fiberglass boat was named Black Jack.
The Coast Guard is investigating the event more thoroughly and did not release the name of the owner.
WLNE-TV / ABC6 2013