Combat wounded vet rolls through RI on cross country trek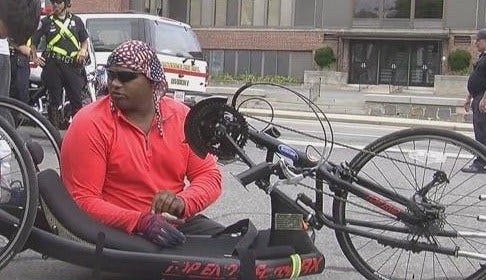 By Kainani Stevens
kstevens@abc6.com
It was a warm welcome for marine combat veteran Toran Gaal as his cross country bike tour rolled through Rhode Island Tuesday. Providence is the 51st stop on the vet's 65 day tour across America. It is a daunting task that Gaal is taking on to raise funds for other wounded veterans.
"The fact that I've done so many deployments and I have seen so many guys pay the ultimate sacrifice that allowed me to dig down deep," said Gaal. "They're internal motivation to keep going. They're looking down on me and they don't want to see me give up"
The marine sergeant is a double amputee, who lost his legs when an I.E.D. exploded beneath him while he was deployed in Afghanistan. Gaal uses a specially designed hand cycle bike for his grueling 4,000 mile trek. He says he is gaining inspiration from every stop along the way.
"You see so much negative around the world, for me to get so much support in every city and town, it re-inspires you," said Gaal. "Today we came into Providence and the Providence police and fire greeted us a few miles out and that alone wakes you up."
So far, Toran has raised over $30,000 for the Semper Fi Fund, but admits that whether he raises one dollar or one million, he is just happy to be giving back.
"It's worth paying it forward so the next generation has the same opportunities that we've had," said Gaal.
The trip is nearing the home stretch. Gaal will head to Boston on Wednesday and then back south to end at the War Memorial in Arlington, Virginia.
For more information, or if you wish to donate click here.
© WLNE-TV 2015