Comic Con reaches capacity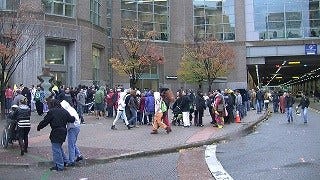 ?Tens of thousands came out for Comic Con at the Rhode Island Convention Center Saturday.
In fact, the crowds grew so large that the State Fire Marshal stopped letting people in around 1 o'clock.
As a result huge lines formed outside with disappointed fans, hoping desperately to still be allowed inside.
"It is disappointing when we were already inside and they told us we'd be able to get back in and now we can't get back in," said Taylor Manning.
"We were inside but then we came out for lunch and when we came back we weren't allowed back in so we've probably been waiting here about an hour," said Brittany Hammarquist.
"I'm here with friends, so we're all you know trying to make the most of it," Davira Kay.
Comic Con released a statement on Facebook telling fans that if they purchased a ticket for Saturday and weren't able to get inside, that ticket will be honored on Sunday.