Committee votes to keep original Bristol parade route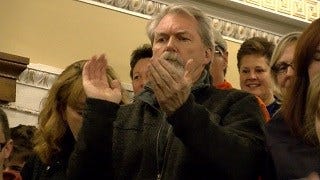 By Kirsten Glavin
kglavin@abc6.com
BRISTOL, RI – Bristol residents packed into the auditorium at the Colt School Thursday night, to let their voices be heard. After a two hour long meeting, the 4th of July Parade Committee overwhelmingly reversed a decision it made just last week, to shorten the parade route.
After a new vote of 80 to 10, with two abstaining, the parade route will not be shortened this year and will return to the traditional route.
Residents give numerous reason as to why it should not be changed, ranging from decreased property value, to discrediting an initial claim that the drum corps would not attend. Many Bristolians pointed to tradition.
Chairman O'Donnell stuck to her original stance, advocating that the route is still too long and needs to be changed. But in the end, she was forced to accept the vote, and told ABC6 that she was ready to move forward.