Support Continues for North Providence Teen Hurt During Hockey Game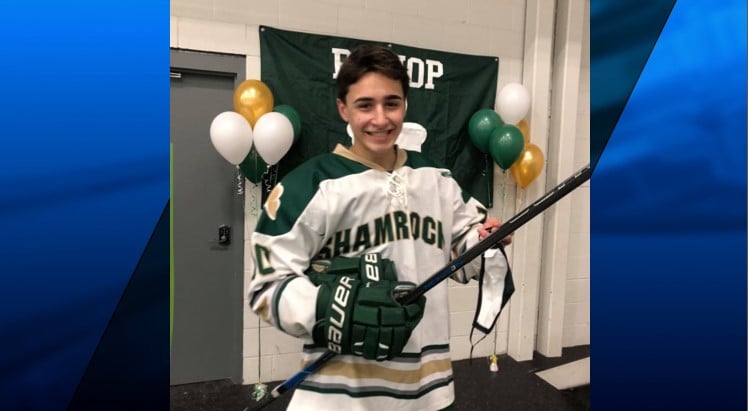 NORTH PROVIDENCE, R.I. (WLNE) – Support continues to pour in for Bishop Feehan hockey player A.J. Quetta who was badly injured in a game earlier this week and may not be able to move his body again.
Quetta is a senior varsity player and team captain for the Bishop Feehan Shamrocks hockey team.
His family tells ABC6 News that he continues to recover from a freak injury suffered during a game against Pope Francis High School on Tuesday.  Support for him and his family continued to trickle in from across the region on Thursday.
"I just talked to Mrs. Quetta and Mr. Quetta 10 minutes ago and they're unbelievably moved.  She says this is what's getting them through right now.  They're following this on social media and on the news," Bishop Feehan President Tim Sullivan told ABC6 News reporter Scott Cook.
Less than 24 hours after the incident, a Go Fund Me page, set up by family, eclipsed $300,000.00 to help pay for A.J.'s medical expenses.
WEEI radio host Greg Hill also started a fundraiser for the family, which has exceeded $50,000.00 and Patriots owner Bob Kraft says he'll donate up to $25,000.00 for the family as well.
One of the most touching acts, according to Sullivan, came from the opposing team following A.J.'s injury.  "We were playing Pope Francis from Springfield and we don't really know that school, they're a long way away and don't play them very often but they were unbelievable after the game.  Our kids prayed together at center ice as the buzzer sounded.  That was special."
The Feehan Shamrocks hockey team plans to take to the ice again later this week with the words "A.J.'s Army" written across their jerseys and helmets.  The school also plans to hold a prayer service and other fundraisers for A.J.
<<<<<<Previous Story>>>>>>>
NORTH PROVIDENCE, R.I. (WLNE) – A local family is receiving support from the community after a frightening hockey accident left a high school senior seriously injured Tuesday night.
Bishop Feehan High School's varsity hockey player, A.J. Quetta, was stretchered off the ice early on in the game against Pope Francis Prep, according to the school's president Tim Sullivan.
Sullivan told ABC6 News Quetta was injured during a play early in the game, after hitting his head against the boards.
Athletic trainers were quick to come to his aid, before Quetta was carried out on a stretcher and rushed to the hospital by ambulance.
Sullivan said it was clear to everyone in the building that A.J.'s injuries were significant.
While both teams finished the game, Sullivan said it was clear that players on either side were emotional.
Sullivan said A.J. is currently in the hospital, and both parents were on his side on Tuesday night.
While the severity of his injuries are unknown, A.J.'s family shared a GoFundMe stating, "AJ has gotten into a hockey accident, and might not be able to move his body again. With your donations, we can get him to the best doctors to do everything we can to get him better. We have so much hope! We love you so much AJ."
Sullivan is asking the community for prayers and hope for A.J. and the Quetta family.
To help support AJ and his family, visit his GoFundMe link here.
The Boston Bruins shared a message in support of A.J. and his family in a tweet on Wednesday.