Connecticut home of Hernandez's uncle searched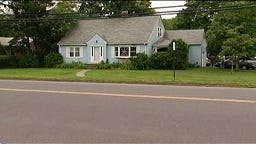 The Associated Press
News@ABC6.com
A home in Connecticut linked to former New England Patriots tight end Aaron Hernandez has been searched by police. Police from Massachusetts and Connecticut went through the home on Lake Avenue and its garage on Wednesday night. The home is owned by Hernandez's uncle.
Police could be seen taking photos of a black folder that was removed from small, single-family house.
Aaron Hernandez starred at nearby Bristol Central High School.
His mother, Terri Hernandez, was at her Bristol home on Wednesday, just hours before the 23-year-old football star was arraigned in Massachusetts on murder charges in the shooting death of Odin Lloyd, a semi-pro football player from Boston. She told the Bristol Press that her son will be cleared of those charges.