Construction Mistake Halts Bridge, Business in Pawtucket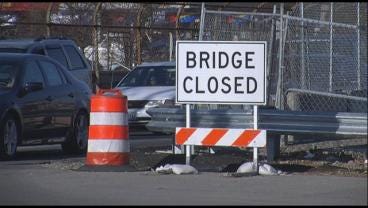 Beneath the shadows of the Pawtucket River Bridge project, Fred Villeneuve and his key shop are struggling.
"We've been in business almost 51 years, and business had dropped almost in half since the construction started," Villeneuve said.
When he found out that the steal beams holding up the bridge do not meet inspection, he was not happy. The project, which is already four months behind schedule, will be delayed even longer as contractors tear up their own work to fix the problem.
Officials at the Rhode Island Department of Transportation say the mistake could not have been detected any sooner.
"It's difficult to determine what it looks like after it's built until it's built," Frank Corrao, the chief engineer at RIDOT said. "You need to have it in place before you can do the checks. It's not something you can do before it's assembled."
While the cost of the mistake will fall on the contractor, Pawtucket Mayor Don Grebien says the city is having to pay in other ways.
"There is going to be a delay getting around the city," Grebien said. "There are a lot of businesses owners that are already struggling coming in and asking if the city can do more."
They are questions that Villeneuve says he is running out of time to ask, and that is the real key.
"It is going to be beautiful when it's done," Villeneuve said. "I just hope I'm still in business then."