Controversial Dunkin' social media post sparks public backlash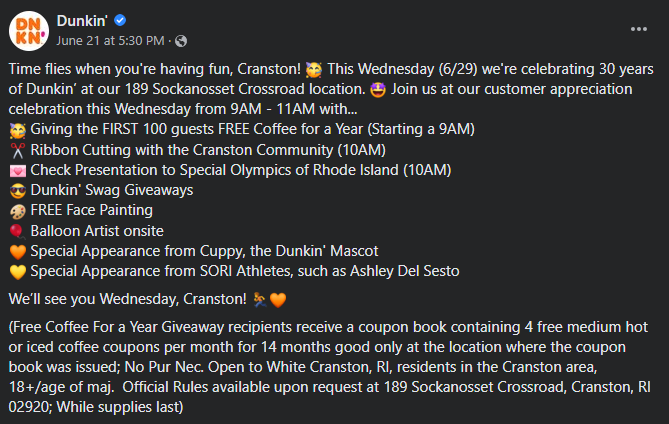 CRANSTON, R.I. (WLNE) — A social media post from the official Dunkin' Facebook account has sparked backlash from the public.
Last week, the company shared a post to promote the grand opening of the Sockanosset Cross Road location in Cranston. It read in part, "Open to White Cranston, RI, residents."
Some commenters responded to the post, calling for location on Sockanosset Crossroad to be closed.
"White Cranston residents is extremely out of pocket, this store needs to be permanently closed for retraining," wrote one commenter.
Another wrote, "Are you kidding me???? I am hoping this is a joke. If not, they should be boycotted by everyone.. only. 'white Cranston residents' can win???? [sic]"
Dunkin' sent ABC 6 News the following statement, saying they are "aware of the typo in the social media post promoting today's grand opening in Cranston, RI. The typo in the post was due to a content transfer error involving a previous opening in White Plains, NY. Upon the typo being discovered, we immediately corrected the post."