Cooler Than Normal Temperatures All Week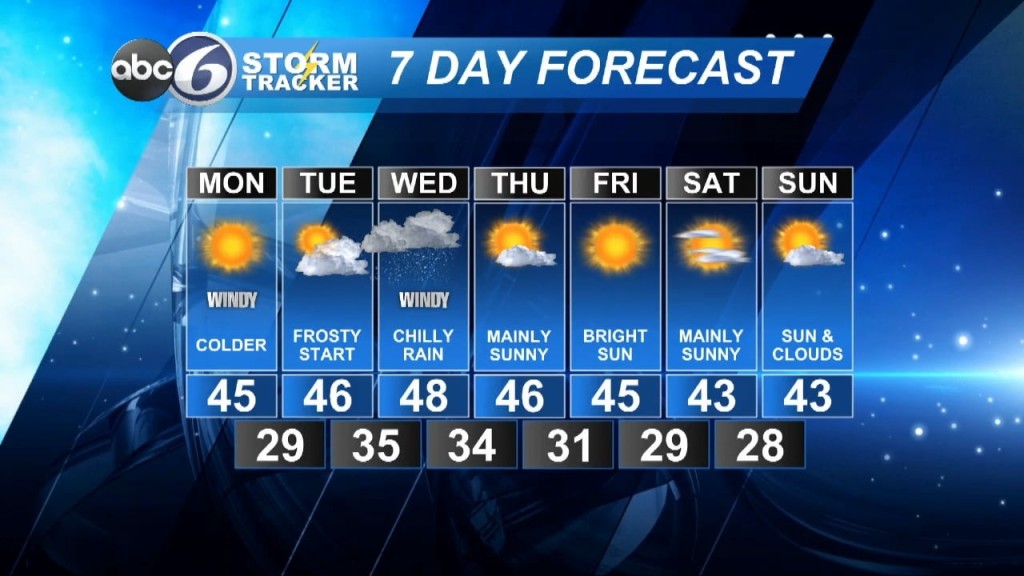 It looks like you can finally put away the summer outfits as Saturday was our last very warm day. There is a definitive change in the temperature pattern not only for this upcoming week, but it looks like the rest of the month as well with below normal readings most every day.
In the wake of the small storm system that passed through the region Sunday morning colder temperatures and rather breezy conditions have been settling in. Under a clear sky, Lows will be dropping to the low and mid 30's and when you factor in that wind it will feel like (wind chill) its in the upper 20s when you wake up in the morning. High pressure will then work toward the region from the Great Lakes during Monday and that will help dial those winds back for the late afternoon as highs only recover the the mid 40s.
A frosty night is in store for  Monday night with temperatures falling to the upper 20s and low 30s. Tuesday through Saturday will features highs only in the mid and upper 40s.
Wednesday looks to be the only wet day with a chilly rain and gusty winds. In fact, if the precipitation comes in fast enough late Tuesday night there may be some wet snow mixing in for northern CT and the Worcester Hills of MA. Even the hills of Northwestern RI could see some wet flakes mixing in for a couple hours. Otherwise, it will be warming enough Wednesday morning to be just plain rain.
ABC6 Meteorologist Bill Gile