Cooley agrees to contract extension, stays with Providence College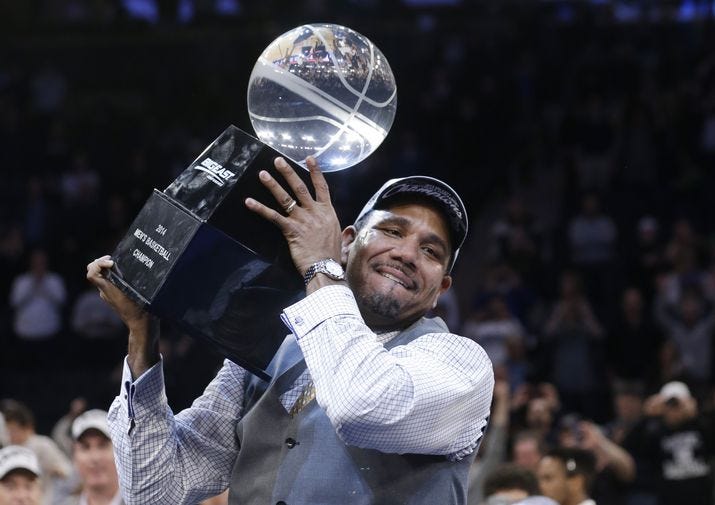 By News Staff
Email: news@abc6.com
Twitter: @ABC6
PROVIDENCE, R.I. (WLNE) – Providence College announced Tuesday that basketball coach Ed Cooley has signed a contract extension with the team & has withdrawn his name from consideration for the open job at the University of Michigan.
In a press release, the school saying:
"Providence College President Reverend Brian J. Shanley, O.P. and Vice President/Athletics Director Bob Driscoll announced today that Ed Cooley has agreed to a multi-year contract extension to remain head coach of the men's basketball program. As a result, Cooley has withdrawn his name from consideration in the job search at the University of Michigan.
"While it's very flattering to be considered for other head coaching jobs, after talking with my family I have decided to remain in my hometown of Providence," Cooley said. "The Friars are my family. Most importantly, my commitment is to my players and my team at Providence. I am extremely grateful to Father Brian Shanley, Athletic Director Bob Driscoll, the donors, season ticket holders and fans for all that they have done for me and my family. They have helped make Providence basketball one of the best jobs in the BIG EAST and the country. Their commitment and support with resources and other means has made me realize what a special place Providence College is. A few months ago we opened the best practice facility in the country – the Ruane Development Center. I also want to thank and appreciate my lawyer Dennis Coleman for all his insight and guidance."
"We are excited to announce that Ed Cooley will continue to lead our men's basketball program," Driscoll said. "We believe that Ed is the one of the top coaches in the country. His leadership over the last eight years has had a tremendous impact on Providence College and the BIG EAST. Most importantly, Ed's devotion to his family, Providence College and his team are one of the qualities that make him the perfect fit for the Friars."
In eight seasons as the head coach at Providence, Cooley has posted a 162-110 mark (.598). In 13 seasons as a head coach overall, Cooley has a 254-179 mark (.586). He has led the Friars to seven-straight post-season appearances, including a school-record five-straight trips to the NCAA Tournament. It marks the first time Providence has reached the post season seven-consecutive times since Dave Gavitt's Friars accomplished the feat from 1970-71 to 1977-78 (eight-straight seasons).
In 2014, 2015, 2016, 2017 and 2018, Cooley guided the team to the NCAA Tournament. In 2014, Cooley engineered the Friars' BIG EAST Championship run after finishing in fourth place in the regular-season standings with a 10-8 record. The Friars went on to defeat St. John's, Seton Hall and Creighton to win the program's second BIG EAST title and first since 1994.
When Cooley was hired in 2011, the Friars had finished under .500 in six of the 10 previous seasons and had been to just one NCAA Tournament (2004) in that 10-year span. Cooley has posted 20-or-more wins in five of his eight seasons with the program and has recorded at least 10 victories in BIG EAST regular-season play five times."