Correia prepares for new job as mayor of Fall River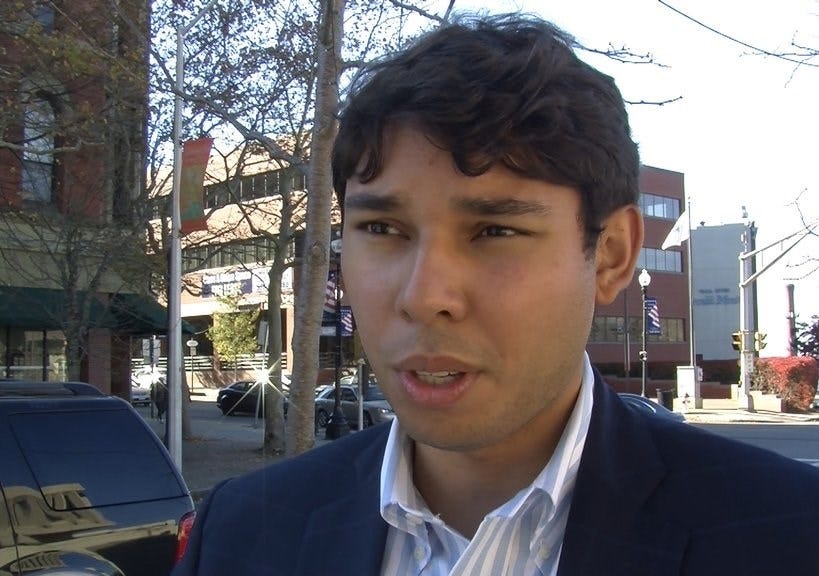 By News Staff
Reporting by Ana Bottary
abottary@abc6.com
The mayor-elect in Fall River is wasting no time getting ready to take over the 10th largest city in Massachusetts.
Starting in January, Sam Sutter will be out and 23-year-old Jasiel Correia will be in, becoming the city's youngest mayor. Despite his age, residents are saying Wednesday that age is just a number.
Correia arrived at City Hall bright and early to begin his transition into his new position as the city's leader.
"We're out there, we are already working. We've been at City Hall since 10 a.m. getting to know some of the people up there and creating the right team," says Correia.
Unofficial results show that fewer than 700 votes gave Correia, a two-year City Councilor, the win, ousting current Mayor Sam Sutter.
Ray Mitchell, Vice President of the Fall River City Council, says he is not surprised at the result, which likely came down to unpopular house-hold trash fees.
"The unfortunate thing is we had to implement a trash fee of ten dollars a week, and obviously, people for the most part, did not understand why we had to do it," says Mitchell. Correia has promised to get rid of those fees during the next fiscal year.
"We have a transfer station question passed last night on our ballots, so that's an opportunity where we can actually take trash in, save some money, and then transfer it to another location," says Correia.
Mitchell says he supports this idea of eliminating the fee, but isn't sure how it will be done.
"It represents the net fee, and the bag fee represents about 6.5 million dollars. Those fees have to be made up somewhere. But if he's got a plan that will resolve that issue, I am more than happy to go along with it," Mitchell explains.
Fall River residents say the fee is a huge issue, and they look forward to having a new leader.
"If the newly elected mayor takes care of this issue, I feel like Fall River will be on the right track," says resident, Paula Dussault. "Being so young, he will be a go-getter to try to accomplish a lot for Fall River. We need a change," she says.
Mitchell says every new mayor comes in with a clean slate. Correia will be sworn into office in January, and is already beginning the process, meeting with every department head and government employee in City Hall to find out where their priorities are.
© WLNE-TV 2015