Cardinal Sean O'Malley celebrates mass at his church in Rome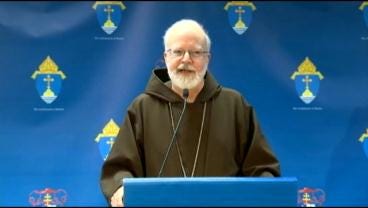 By: Melissa Toupin
While in Rome Cardinal O'Malleys' name has started to attract some serious attention. His mass Sunday morning at his titular church, Santa Maria della Vittoria drew a large crowd. Some are saying his growing popularity is an indicator of things to come.
As parishioners gathered at St. Bernadette's Catholic Church in Fall River their thoughts and prayers were thousands of miles away in Rome with their former pastor.
"I'm praying for him," said Carol Kalif. "Especially today at mass. I will."
O'Malley, now Boston's Archbishop, is of 115 cardinals who will vote for the new Pope. It was just a week ago when he joked around with reporters about his chances at the Papacy saying, "I have bought a round trip ticket, so I'm counting on coming home."
Now with the start of the conclave just days away it seems like anything is possible.
O'Mallelys' name has repeatedly been mentioned by the Italian press– pointing to him as one of the men with a good chance of being the next Pope.
"I wouldn't necessarily bet the farm on it, but anything is possible," said Msgr. Anthony Mancini of the Providence Diocese.
The Monsignor says it is unlikely that the next Pontiff will be an American, though he does believe O'Malley has the right appeal
"This man is holy. He's dealt with the sex abuse scandal in 3 dioceses. He preaches well. He speaks 6–7 languages…and I mean fluently," said Msgr. Mancini.
Still religious leaders here at home know it's a long shot. There has never been a Pope from the United States.
"He certainly could do it, but the challenges are immense. The pressures are immense…for any body," said Msgr. Mancini.
The first vote is scheduled for Tuesday night. It could take several days before a new Pope is selected.