Count down to our Nor'easter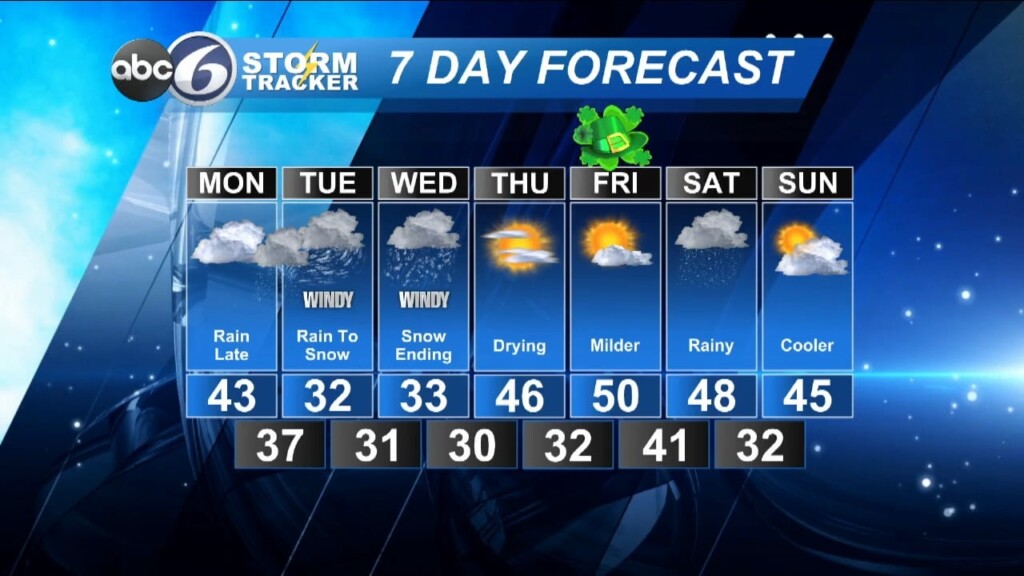 From ABC6 Meteorologist Bill Gile,
bgile@abc6.com
Clouds will be in place tonight and last throughout the day Monday as our developing Nor'easter approaches. Most of Monday will remain dry, but as we head into late Monday afternoon and evening rain will be developing. Rain will become heavy at times into Tuesday morning.
There's still a lot of details about this storm track that still have to be worked out through the next 24 hours as high resolution model guidance is just now starting to get a better handle on its development. The big question that remains among these models is when will the rain turn to snow and as a result how much snow will we get? However, I am certain that this will be a 36-48 hour event and that we will experience strong to perhaps damaging wind gusts from this storm that could be reaching 45-65MPH, especially Tuesday and early Wednesday.
When we change to snow it will be a heavy, wet snow and that combined with the wind creates the risk for power outages. Below is my early projection of snow totals, but again this could shift based on later model runs.
Coastal concerns will need to be monitored for minor flooding during the high tide cycles Tuesday and Wednesday, especially the Tuesday night High tide.
Tune in to ABC6 News for my latest forecast.
TONIGHT: cloudy. Lows 32-35.
MONDAY: cloudy, rain developing by the evening. Highs in the low 40s.
TUESDAY: windswept rain, heavy at times in the early morning, mixing with and changing to snow midday or early afternoon. Temperatures falling into the low 30s for the afternoon. NE winds increasing 18-30 MPH with gusts of 45-60 later in the day and becoming more Northerly.
WEDNESDAY: snow, may be heavy at times in the morning and tapering off during the afternoon. Blustery with highs in the low 30s.
THURSDAY: mainly sunny. Highs in the mid 40s.