Couple searching for stranger who captured photo of engagement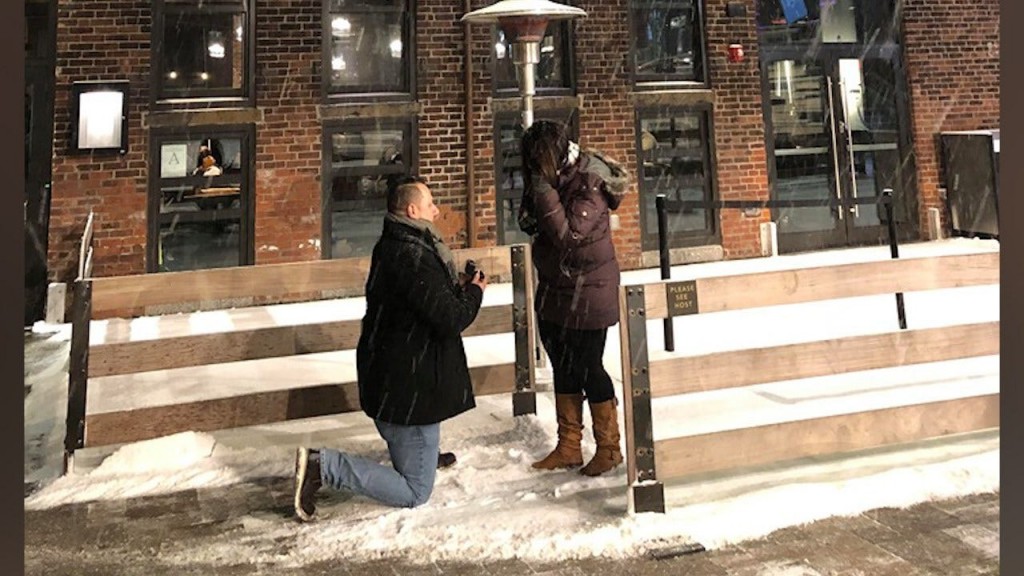 By: Ellie Romano
Email: ERomano@ABC6.com
Twitter: @ERomanoABC6
PAWTUCKET, R.I. (WLNE) – A Pawtucket couple who got engaged over the weekend is now searching for the kind stranger who captured the moment Nick DaSilva bent down on one knee.
DaSilva has been dating Alicia Piazza for nine years.
"I had been planning to propose to Alicia for some time now," said DaSilva.
He wanted it to be a surprise, so he planned an ordinary weekend. They took a trip up to the Boston based brewery Trillium.
"As we were leaving Trillium in Boston, the Fort Point location of the restaurant, I decided this is my moment," said DaSilva.
He asked Piazza to go outside with him and take a picture. At first, she declined because of the bad weather. But then a nearby stranger offered to go with them outside to take the photo.
"This very kind woman took two or three pictures and said 'okay, you should be good,'" recalled DaSilva. "She started walking back towards us to give me my phone back, and I said 'oh wait, one more, do you mind?'"
Then, without Piazza or the stranger expecting it, DaSilva bent down on one knee.
"This very nice woman who has my phone realizes what's happening in front of her and she's going 'oh no, oh my gosh! Oh my gosh!' and starts snapping photos," said DaSilva.
The stranger was able to capture the moment the couple got engaged.
"She didn't know what she was in for. I didn't even get her first name," said Piazza.
Now the couple is trying to find that woman to thank her for taking the sentimental photos.
"She didn't just make our night, she made a really important memory for us," said Piazza. "Those pictures are really, really special to us."
Piazza said she wants to send the woman a thank you card and buy her a beer at Trillium.
If you know who the woman might be, send an email to news@ABC6.com or call us at (401) 453-8044.
© WLNE-TV 2020