Cousins create show stopping tribute to troops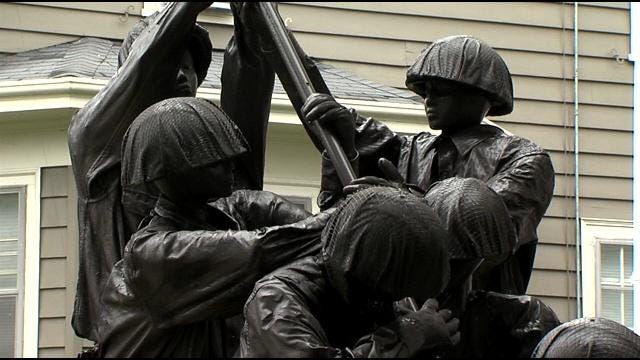 By: Melissa Toupin
A replica of the flag raising at Iwo Jima is proudly displayed in a Bristol front yard. Once a symbol of victory that would give strength to battle weary men, the display now stands as a tribute to all veterans.
"We don't get enough opportunities to salute our troops and salute our heroes in this country so we like to do something over the top every year," said co-creator Michael Jodoin.
Jodoin and his cousin, Peter Morin, live on Hope St along the towns 4th of July parade route. While they are not veterans themselves, they do have several family members who are in the armed forces.
The pair spent three weeks carefully hand crafting the statue out of wood, chicken wire, and old clothes.
"It represents our country. It represents our patriotism. It represents the men who have died. The men who have served. How lucky we are to live in this great country. This is what we do for them," said Jodoin.
It's become a family tradition. Each year the cousins, who grew up in town, make a differ net display. One year they painted the lawn red, white, and blue, and from there it snowballed. They've created replicas paying tribute to the lives lost in 9/11 and the Vietnam War. This year they decided to re-create the Iwo Jima flag raising.
"It's kind of teary eyed. It all pays off in the end," said Morin.
the life-like display has been stopping traffic since it went up Saturday. Some spectators have come from as far as California to see it and take pictures.
"It really touched me, because all my uncles and my brother–in–laws in the family were in the war," said Barbara Docouto, who grew up in Bristol.
"I think it's a great thing, to make the people realize, basically, what all the veterans had to go through," said Veteran Alvaro Cabral.
The immortalizing words, "Uncommon valor was a common virtue," are carved on a plaque in front of the statue.
The display will stay up through the 4th of July. After that the creators hope to donate it to a veterans organization.
(C) WLNE-TV 2013