Coventry residents vote to cut fire budget by 15%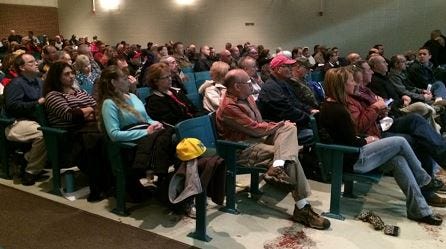 By: Rebecca Turco
Email: rturco@abc6.com
Twitter: @Rebecca_Turco
Facebook: RebeccaTurcoABC6
COVENTRY – Residents in Coventry voted to cut their embattled fire district's budget by nearly 15 percent.
The nearly three-hour budget meeting Tuesday night was heated at times. Voters approved a taxpayer-pitched budget reduction of $432,500, then approved the modified budget of $2,470,800.
As a result, the tax rates have been set on each $100 to 26 cents on residential property, 39 cents on commercial property and 39 cents on industrial property.
ABC6 caught up with some voters, who believed it was time for a change. "We have been robbed for years and enough is enough," said Frank Palin. "We've got to stop it."
"I really think that if [the fire board] would have been a little bit more open…this would not have happened," said Robert Di Padua.
All this comes after the Coventry Professional Firefighters' Union announced recently that there's not enough money to make pay-roll next year.
After the budget meeting, voters were set to decide on three available seats for the fire board, but one of the members resigned that night, so four seats became available.
© WLNE-TV 2014