COVID-19 Primary Election brings changes to Massachusetts voters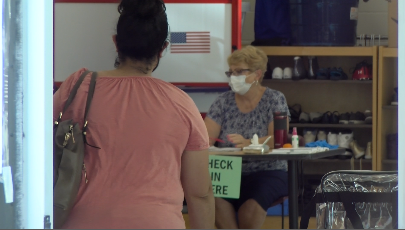 FALL RIVER, Mass. (WLNE) – The polls are open in Massachusetts for the 2020 Primary Election.
However, rather than in years past, polls weren't busy due to the coronavirus and restrictions. For the voters that showed up in person, they say, there's too much at stake.
"In the middle of a pandemic, it just shows strength in our democracy to exercise our rights and participate in the movements we know and love," voter Jerica Washington said.
Polling locations were equipped with hand sanitizer and face masks and there were new regulations on everything from ballot marking pens to where you vote.
New laws extended the time period for early voting and allowed no-excuse mail-in voting.
As of this morning, the Secretary of State's Office says they've received about 950,000 ballots, which includes 190,000 cast during early-voting and 760,000 returned by mail-in-voting.
For some voters, fears about mass mail-in-voting systems are still high for voters.
"I'm not for mass mailings of mail in voting," Tara Miranda of Fall River said. "I don't get half my bills in the mail in time, so, that's the way I see this. I don't know if I can trust the rest of it."
But, the primaries also bring a high profile race for one of the state's two Senate seats.
The race puts at risk the legacy for one of the most well known political dynasties in the country.
"I never voted for a Kennedy," voter Edmund Frederick said. "This is the first time I'm going to do it."
Representative Kennedy has said he won't run for Congress if he loses today, giving up his seat in another contentious race.
He's up against Senator Markey who, at 74, has become a dominant force on social media.
"Everything's riding on today," voter Gary Therialt said. "Not as much as the 2020 Presidential Election, but it all depends on how you want to live your life."
While today brings challenges and change, voters say it's a preview to what's to come in November.
Polls opened at 7:00 a.m. and will close at 8:00 p.m. Virtual celebrations are set for Tuesday night and then it's off to the November 3 General Election for today's winners.