Cranston father missing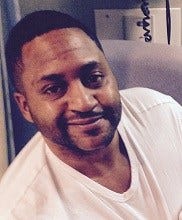 A family desperate for help more than a week after a father of three went missing.
Kerry Mello of Cranston was last seen August 10.
"It's anguish it's like the not knowing. I even between hope and despair. One minute I'm hopeful I'm praying and everyone's praying and you know when the lights go out and you go to bed at night it's just such despair because your head is full of him," said Kerry Mello's mother Priscilla Mello.
The Cranston father was last seen in Providence at his girlfriend's house.
His mother saying no one she has reached out to has any idea where he could be.
"I'm very worried because he has never done this before. This completely out of character he calls me every day," said Mello.
The 36-year-old's car a 2002 black Infinity is also missing.
The family has filed a missing persons report with the city of Providence. His cousin sending a message out there for anyone who knows anything.
"If you see something, say something. We are hopeful that someone is going to take a step forward and give us some kind of idea as to where Kerry may be," said Vincent Clements.
Anyone with information is asked to contact either Vincent Clement at 401-699-4199 or Providence Police Detective Roberson at 401-272-3121.