Cranston Police Looking for Two Purse-Snatchers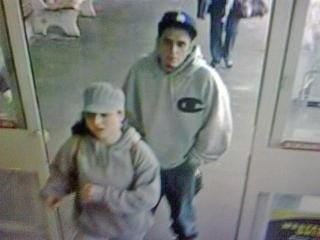 Cranston Police have released photos of a pair of purse-snatchers they say robbed an 89-year-old woman as she shopped at a local Stop and Shop supermarket.
Earlier this month, the female victim was at the pharmacy of the Stop and Shop on Garfield Avenue. When she turned her back on her carriage, her tan pocketbook was stolen. A look at the store's security video showed a white female taking the purse from the woman's cart.
The female suspect is described as being in her 20's, with dark hair in a ponytail, wearing a gray sweatshirt, light blue jeans, black winter style boots and a gray baseball cap. At the time of the incident, she was also wearing a pink backpack.
The store's video also showed a white male in his 20's, who was with the female suspect. He was wearing a gray hooded sweatshirt with a logo embroidered on the front. He also was wearing a dark colored baseball cap.
The pair then left the store in a red minivan.
Two weeks after the initial robbery, one of the victim's credit cards was used to buy cigarettes at the Hess Gas Station on Reservoir Avenue. The female who bought the cigarettes matched the description of the purse-snatching suspect.
Police are now trying to ID both suspects. Anyone with information on the identity of either of the suspects in these photos should call Cranston Police Detective Jeffrey Chapman at 477-5101 or Detective Paula Duffy at 477-5139.