UPDATE: Arrests Made, Victim's ID'd in Cranston Double Shooting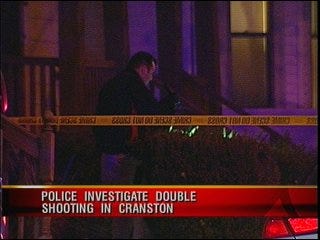 Shortly before noon Friday, Cranston Police announced two arrests in connection with a double shooting from Thursday night.
Just after 7pm Thursday, police were called to a reported home invasion on Bay View Avenue in the city. On scene, police found Susan Goodrich, 42, and Marcus Goodrich, 18, with gunshot wounds. Both were immediately taken to Rhode Island Hospital, where they're listed in stable condition.
Police were able to track down the two suspects, Karany Chhay and Evan Perez, both of Providence, after broadcasting a description of them from the home invasion. Both are in custody and will be arraigned Friday on various felonies, including robbery and assault.
Police say the suspects entered the home and demanded money from Marcus Goodrich, who was with friends at the time. Marcus' mother Susan heard the commotion from upstairs, and got into a physical altercation with one of the suspects in the basement.
Marcus was shot twice in the abdomen, and Susan was shot once in the arm. The victims' father and husband, Carl Goodrich, initially chased down one of the suspects, who was later able to get away.