Cranston police seize drugs, handgun and ammunition while serving separate warrant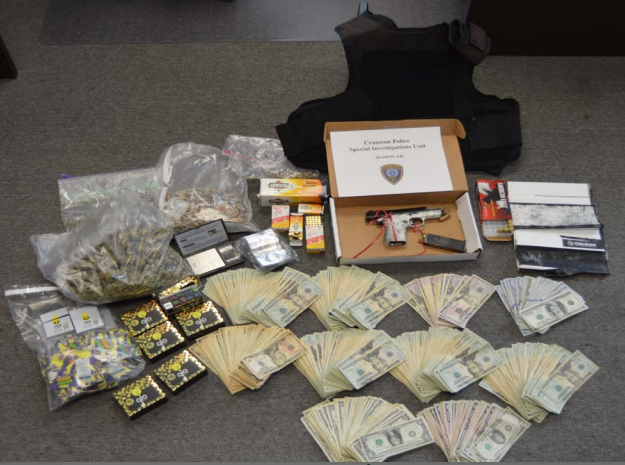 CRANSTON, R.I. (WLNE)– Cranston police said they were serving a federal arrest warrant for a stolen goods operation Monday morning when a large amount of contraband caught their eye.
There was also a handgun that police say a suspect attempted to throw from the second floor window of the home at 19 Crossway Rd.
Police said they executed the arrest warrant without incident, and were able to obtain a search warrant from Rhode Island District Court.
This lead to the seizure of  a .45 caliber handgun and a large amount of ammunition, two pounds of marijuana, hallucinogenic mushrooms, marijuana edibles, a bulletproof vest and $22,000  in cash, Major Todd Patalano said in a statement.
Police arrested 19-year-old Nico German Jr., who they said resided at the residence.
German has been charged with three counts of possession of a schedule I narcotic, possession of a firearm while committing a crime of violence, and maintaining a common nuisance, according to the statement.
German is being held without bail, Patalano said, and will appear back in court on Dec. 1.
©WLNE-TV/ABC6 2020