Emails Flood Cranston School Committee Member Over Prayer Banner Vote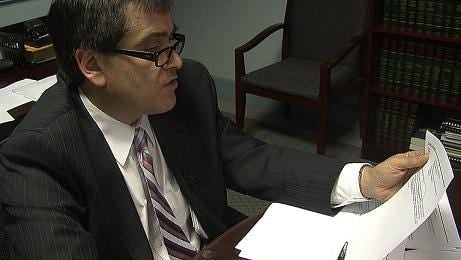 The Cranston School Committee is getting ready to vote on whether to take the city's prayer banner battle to a federal appeals court. One federal judge has already ruled against the city and ordered the banner removed from Cranston West High School.
Tensions were high outside Cranston East High School Thursday night. A lot of people have been waiting for tonight's decision. It could end the fiery debate, or fuel it.
Atheist teen Jessica Ahlquist has gotten a lot of negative attention for all of this, but she's not the only one being targeted in the debate.
Hundreds of emails from across the U.S. and beyond have come to Cranston school committee member Frank Lombardi. The emails are from Honolulu, Hawaii and even Afghanistan.
Lombardi recited one of the emails, "Our country is watching every move you make and we will not tolerate the denial of any child's rights," he read.
Lombardi says many of these emails have streamed into his office in the last few days in a last effort to persuade his vote Thursday night.
Lombardi read another email, "you idiots that want a, I guess it's pronounced "Godernment" G-o-d-e-r-n-m-e-n-t instead of a secular government should be ashamed of yourselves," he read.
It all started with Jessica Ahlquist. An atheist teen who argued the words "Our Heavenly Father"and "Amen" don't belong in a school. Those words begin and end a banner that has hung at Cranston West since the 1963.
Ahlquist won a lawsuit in federal court last month to have the banner removed. Today it's covered, pending tonight's decision.
Since it started more than a year ago, Ahlquist has received a lot of negative attention, but tonight the attention shifts to school committee members.
Lombardi says, "I'm not going to concern myself that someone in Honolulu is telling me the nation is watching me."
Lombardi says the flood of emails doesn't affect him, his decision will be made on what the people of Cranston want.
"There is pressure but you know what, if we succomb to pressure in our positions then we shouln't be elected officials," said Lombardi.
School committee members are holding a closed meeting at 6pm with their attorneys, the public hearing will begin at 7pm.
This isn't just a hot topic here in Rhode Island, the prayer banner has made headlines in the NY Times and Yahoo news.
A decision on an appeal is expected to be made tonight.