Cranston School Committee Votes To Keep Controversial Banner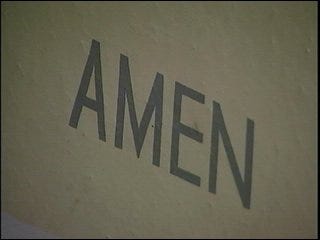 UPDATE: The School Committee voted 4-3 to keep the banner in the school and oppose the ACLU.
About a hundred people turned out and most of the crowd was in favor of keeping the banner. Most of the Committee was as well, but there was some concern over how the city would actually pay for any legal fees that might be incurred as the legal battle unfolds.
*********
Monday night, the Cranston School Committee will take a vote on whether a controversial banner will remain hanging inside the Cranston West High School.
The banner has been hanging in the school since the 1950's, but last year the ACLU asked the school to remove it after getting a complaint from a parent.
A sub-committee of the school board has already voted to keep the banner on display.
ABC6 News will have a crew at tonight's meeting, and a full report at 6p.m. and 11 p.m.