Cranston Votes Not to Appeal Prayer Banner Removal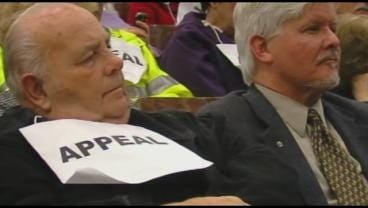 The battle over the controversial prayer banner at Cranston West has come to an end. The school committee voted not to appeal the court's decision to remove the banner.
People were standing on chairs and waving their arms. 700 protesters filled Cranston East's auditorium Thursday night. After three hours of hearing what they had to say, the school board voted to put an end to the prayer banner battle and not appeal a judge's decision to remove it from Cranston West's auditorium.
"We have to think differently and events and times change in our country all the time and we just need to move on," said school committee member Paula McFarland, "And concentrate on what we're elected to do, which is educate our children in this city."
McFarland originally wanted to keep the banner up, but now she says the cost to appeal is too high. Fellow board member Frank Lombardi voted for the appeal.
"Money was what brought it home tonight and everybody was concerned about 173 thousand and concerned about a potential 500 thousand dollars," said Lombardi, "You know, I was confident we could raise the money but what can you do."
What they'll have to do, is take the banner down within 10 days. Jessica Ahlquist, the Cranston West student who fought to get it removed, is happy with the school board's choice.
"I'm very pleased with decision," said Ahlquist, "This is obviously the decision I hoped the school committee would make and that they have and I'm thrilled."
Cranston West student Christian Frangos not so thrilled about how the vote went. The banner, put up in 1963, is now just history.
"It does upset me and you know why? I've had four close family members. My mother and father both graduated and my two aunts. They graduated without a problem," said Frangos.
The school board's vote was five to two against the appeal.