Cranston's Olympic pride, Marissa Castelli, heads to Russia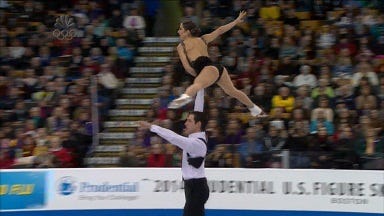 By: Alexandra Cowley
Cranton's Marissa Castelli, was on her way to the Sochi olympics Friday night. Her parents will join her in Russia in a couple of days, and despite recent terrorist attacks and threats of more, there's nothing that would
keep them from watching their daughter go for olympic gold.
In just three
days Mr. and Mrs. Castelli will be heading to Russia to watch their little girl
skate out her Olympic dream.
"Looking back at the pictures of when I first put her in the
first basic competition I'm like wow you know time flies and to see where she
is now, it's amazing," said Mom Lori.
Lori Castelli was a skater herself and still teaches. She laced up her daughter's first pair of skates at age 3, and
now 20 years later, she's heading to the Olympics.
Dad Tony Castelli said, "everyday you wake up and say wow is this a dream, how
lucky are we, definitely."
Marissa Castelli and her partner Simon Shnapir earned their place in
the Sochi Olympics after winning the national championship in Boston.
"I always thought it could happen, when it was going to
happen was a question, but yeah it's a dream dream come true," said Tony.
As the countdown to the start of the olympics begins,
reality is starting to sink in for these proud parents.
While taking home the gold would be pretty spectacular, the Castelli's say they're focusing on having fun and taking in this once in a
lifetime moment.
"Not to think about it, just go out there and have fun,
and enjoy yourself take your time, stay in the moment and embrace it," said Lori.
The Castelli's board the plane to Russia on Monday. When we asked them about the recent terror threats and security there, they said they are confident the proper security measures will be taken.
(C) WLNE-TV 2014