Crews battle 3-alarm fire in Cumberland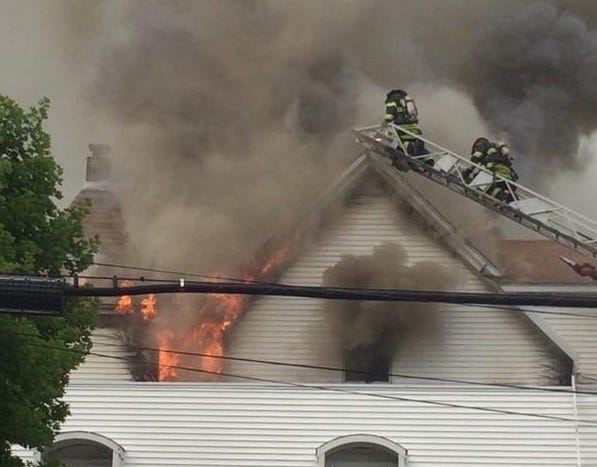 A fast moving fire quickly tore through 515 Broad Street in Cumberland on Monday. The building houses apartments on the 2nd and 3rd floors and businesses on the first.
"It looked small at first but then it just took off," said Kendra Berlinger.
Berlinger was driving by when she noticed the fire. She says she stopped and knocked on the door to one of the apartments trying to alert one of the families inside to get out.
"I just told them their house was on fire and that they needed to get out of the house," said Berlinger. "It's really scary I'm just glad they got out of the house."
When fire crews arrived, we're told the flames were very heavy. Cumberland's Fire Chief, Kenneth Finlay says the fire was a difficult one to fight.
"Once it got into the roof it had clear air space to travel. We couldn't get enough crews up there fast enough to get ahead of it and subsequently it burnt through the roof," said Chief Finlay.
At one point a chimney collapsed, bringing down a power line with it.
"We had quite a few issues going on all at the same time," said Chief Finlay.
The Chief tells us around a half dozen people live in the home. Many of those people watched on in horror as all their belongings were destroyed.
"I can't even talk about it you know. There are no words to describe it," said Jean Maignen.
No injuries were reported.
The Red Cross is assisting the fire victims.
© WLNE-TV 2015