Crews battle brush fires in Johnston, Scituate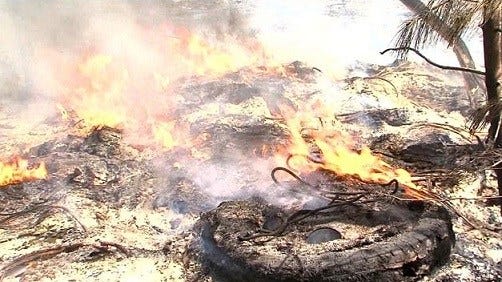 By News Staff
The large brush fire in Johnston that had been burning for hours is now out.
The flames broke out just before 11 a.m. Monday morning in a wooded area near Greenville Avenue, right between Route 6 and Route 44. Old tires dumped in the area caught fire creating plumes of black smoke that could be seen for miles.
Johnston Firefighters, with the help of at least ten other departments, worked tirelessly to contain the fire. Crews were forced to pull miles worth of hose to reach the area.
Dry, windy, conditions helped the flames spread quickly, at one point covering 15 acres of land.
Officials tell ABC6 that there was never any threat to residents nearby.
Investigators are still trying to figure out the cause.
Crews in Scituate were also out battling a large brush fire in the area of Plainfield Pike, which has since been put out as well.
© WLNE-TV 2015