Crucial race in District 15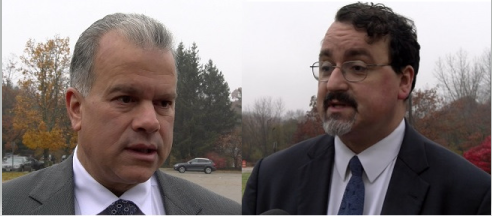 By: Melissa Randall
Email: mrandall@abc6.com
Twitter: @MRandallABC6
CRANSTON, R.I.(WLNE)— One of the many crucial races in Rhode Island is for District 15. ABC6 News caught up with both candidates this morning at Hope Highland Middle School in Cranston.
Incumbent Nicholas Mattiello cast his ballot just before 9 am alongside his wife. He's battling Republican Steve Frias who was outside greeting voters.
And there's more than just the house seat at stake here this year. If Mattiello doesn't win, the house will have to elect a new speaker. Despite some rumblings during the campaign season, Mattiello says he is feeling confident.
"I've got the 38 votes secured. More than 38. Probably closer to 50 so, you know, there is a minority voice that wants their way, but we listen to minority voices but they don't control the conversations," he said.
"I do believe he is not very popular. I think we should be able to pull this out. Its just he has a very big machine. He does a lot of favors and we're just going to work as hard as we can to get our message out and get people out," said Frias.
© WLNE-TV / ABC6 2018