Cumberland coach and team featured in commercial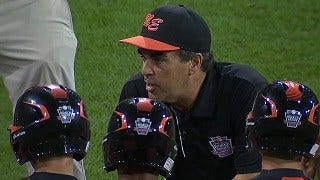 A Cumberland little league coach who made headlines for his iconic speech last year is back in the spotlight, this time for a new Kellogg's Frosted Flakes commercial.
The message behind the ad: it's not about how many runs you score or whether or not you win the game, it's about how you #showyourstripes.
The voice of Coach Dave Belisle talking to his players moments after their heartbreaking 2014 Little League World Series Loss plays throughout the entire TV spot.
"If you watch the commercial you can't help but smile," said Belisle. "No matter who you are. It just brings about there is positive things out there to hang your hat on."
The commercial emphasizes the importance of sportsmanship, team unity and spirit.
"I think it sends a positive message that getting into sports is a good thing," said Belisle.
Several Cumberland Little League players make cameo appearances in piece.
"When I saw it, it was just shocking to see myself in the commercial," said Trey Bourque.
Bourque says seeing it brings back all of his great memories. The now 13-year-old says he and his teammates learned quite a bit from the speech. He hopes through the commercial others will learn something as well.
"I carry it on with me because it definitely meant something to me," said Bourque. "I hope that they see us having a great time playing baseball and that they can go out and do the same thing that we do if they work hard."
Belisle says he hopes in addition to players this commercial will serve as a reminder to parents about what sports should really be about.
(C) WLNE 2015