Cumberland couple raffles off Pats tickets for a cause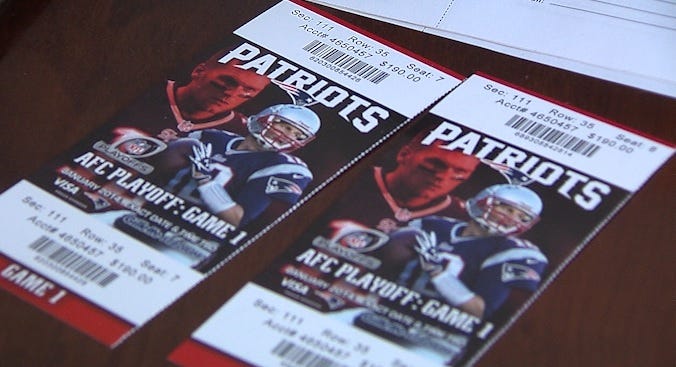 Nicole Gerber
ngerber@abc6.com
@nicolegerber
CUMBERLAND – December 17th was an unthinkable for the Alger family. It was the day they lost their pets and Cumberland home in a
massive fire.
Neighbors Christian and Amy Neary decided they wanted to help.
"We said we have to do something," said Amy.
So the Neary's came up with an idea to raise money for the displaced Alger family, to help them start over.
"We take it for granted that we have season tickets for
the Patriots and we immediately thought, well, that's a way to raise money
right off the bat. Who wouldn't want to go to the Patriots game for a hundred
dollar chance?" asked Christian.
The Neary's are selling raffle tickets. $100 gets you the chance to see the Saturday
playoff game live at Gillette, and all the money raised goes directly to the Alger
family, currently living in a local hotel.
"You know coming up with a hundred bucks after Christmas is
not easy, we're paying our credit cards now toward the end of January. And
folks who are anteing up a hundred dollars, it's not for the tickets. It's
really to help somebody who lost a house, lost their lives," said Christian.
"This is what community is about, this is how you help take
care of other people, even people that you may not really even know. You have
to think beyond yourself," said Amy.
There's still time for you to get your hands on some raffle rickets
tickets or make a donation. For more information or to enter the drawing email Christian at Christian.neary@gmail.com.
The winner will be chosen Thursday at 9 PM.
(c) WLNE-TV 2014