Cumberland Little League team heads to NE Regional Tournament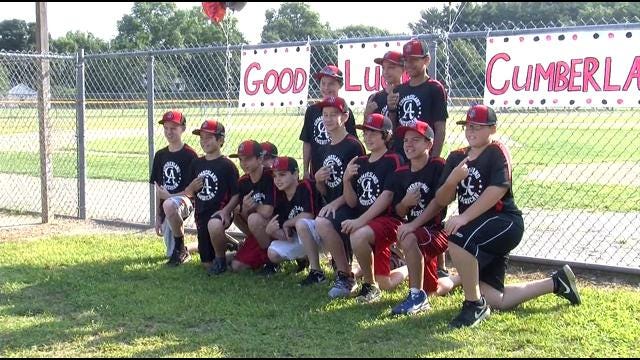 By: Melissa Randall
mrandall@abc6.com
It's an exciting time for Cumberland. Rhode Island's top Little Leaguers left there Thursday morning for the New England Regional Tournament in Bristol, Connecticut. For many of the boys this has been a dream since the first time they picked up a ball and glove.
"Anxious. I really want to win, but I'm also nervous to play at one of the highest levels you can play at," said 12-year-old Brendan Wright.
They're already the state Little League Champs, but the team is still hungry. The Cumberland Americans have their sights set on the World Series. To get there, though, they will have to win the regional tournament.
"They're gamers. I can tell you that much they don't quit. They fight to the very end. They've pulled out some amazing victories and we're hoping to pull out a few more," said manager David Belisle.
Family and friends gathered at Bentley Field this morning to send them off. The boys, ages 12 and 13, have been playing together for two years.
"I think we'll do good, but we'll have to work really hard," said Wright.
Several of the players have already been to Bristol as fans, and are looking forward to having the chance to test their skills.
"My brother went when he was 12 back 3 years ago, so it's pretty cool going back," said John Belisle, also 12.
In 20–11 that team won regional's and went to the World Series. This years talented bunch is hoping to follow in their footsteps.
"We have great competition that gets us ready for something like this," said David Belisle. "Look out New England. Here comes Rhode Island."
The first team Cumberland will face is neighboring Massachusetts.
© WLNE-TV / ABC6
Follow me on Twitter @MelissaARandall