Cumberland pizza robot featured on The Tonight Show Starring Jimmy Fallon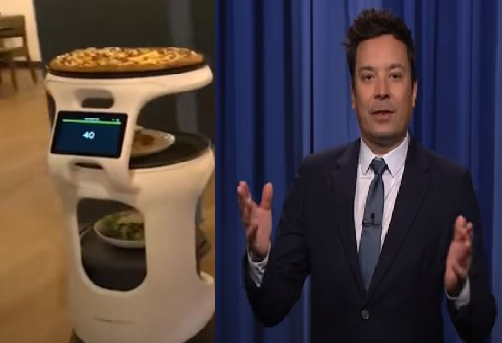 CUMBERLAND, R.I (WLNE) – Servi, the food-running robot that's tending to customers at Angelo's Palace Pizza in Cumberland, was a segment in Jimmy Fallon's opening monologue on Wednesday.
Servi joined the staff at the start of June as thousands of restaurants in the region continue to struggle to find workers.
The co-owner of Angelo's Palace, Alexandria Kitsilis told ABC6 that Servi is a "wait-staff assistant,", so she is not a replacement to anyone.
The footage originally shot by ABC6's Scott Cook shows Servi tending to customers at the restaurant.
"It's a great innovation especially when the last customer leaves and Servi becomes Moppi," Fallon said in jest.
Watch the monologue here, or read Scott Cooks's original coverage of Servi here.
©WLNE-TV/ABC6 2021