Curtis-Cascione Cook-Off Hits West Warwick School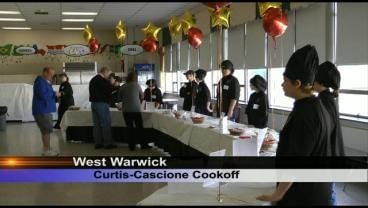 The Curtis-Cascione Cook-Off hit the road this weekend. Only this time, Mark and Steve were the judges.
Middle school students in West Warwick competed in the "Future Chefs Healthy Breakfast challenge." Seven students made the finals in a contest sponsored by Sodexo, the school's food service provider, which is endorsed by First Lady Michelle Obama's Healthy Eating Campaign.
The West Warwick kids made everything from egg cups to strawberry-banana shakes and crepes. The first pace winner was Christopher, with his baked-stuffed french toast.
We salute all the kids, their teachers and kitchen staff for a tasty job well done.