"Cut-A-Thon" for cancer patient By Dana Griffin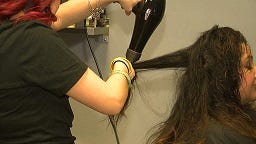 NEW BEDFORD, MA-
The Wash
House Salon is raising money for a man diagnosed with colon cancer.
Today, they held a
three–hour "Cut–A–Thon", hoping to raise as much money as possible for
the family's medical expenses.
"One of our
clients, her husband was diagnosed with colon cancer and we felt the need to do
something for them. So that's why we're here," said salon co-owner, Nellie
Barbosa.
The family is not being
identified because they have small children who may not understand everything
yet.
Dorothy Leary is a
registered nurse, and knows the affects of cancer on patients and their
wallets.
"It could be one of
my patients that it could be a family member, or it could be my family. So you
just want to support people when they're going through something like this.
Along with the services,
a bake sale and prize drawing will also generate money for the family.
Barbosa adds, "We
do 100% proceeds so everything that we do today will be for the family
including the Chinese auction and the bake sale."
Allison Arruda said
today, she's cheating on her hair dresser.
"Obviously, it's
why everybody's here. So hopefully, every little bit counts so hopefully, it'll
help them out," said Arruda.
Every year the salon
chooses a different organization to raise funds for. This year they didn't have
to go far to find the right recipient.
©2014 ABC6/WLNE-TV. All
Rights Reserved.