CVS CEO announces expanding testing at White House press event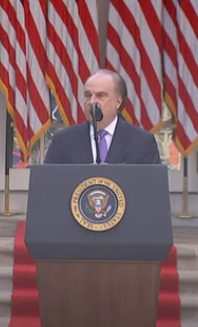 WASHINGTON (WLNE)- Top CVS executive Larry Merlo announced expanded testing capabilities at it the pharmacy chain's stores during an afternoon press conference at the White House Monday.
Starting in May, the Woonsocket, Rhode Island-based retailer will offer self-administered COVID-19 testing at 1000 of its stores, according to a statement the company released earlier Monday.
No tests will be conducted in-store, the company said.
The tests will be scheduled on-line, with customers dropping them off to specially designated employees in the parking lot or drive-through window.
Speaking to reporters alongside President Donald Trump, Merlo said the company was working to expand testing to minority communities.
 "We also recognize the fact that the virus is disproportionately affecting minority communities," Merlo said, "so we are working with the national medical association to bring testing and care into the traditionally under-served communities. We're also beginning to implement mobile capabilities to do that."
Merlo highlighted the drive-through testing sites the chain has launched in five states, including Rhode Island.
"We now have the capacity to test about 35,000 individuals each week," Merlo said.
Merlo joined other industry leaders, from companies such as Quest Diagnostics and Walgreens, as they highlighted expanding testing opportunities across the country.
Doctor Deborah Birx, response coordinator for the White House Coronavirus Task Force, outlined an enhanced testing plan for the nation's response to the virus.
"The plan includes an approach to using science and technology to develop newer platforms, more efficient testing, ensuring the antibody tests utilize and recommended by the FDA  and CDC have high quality in predicting both exposure to the virus and antibody development." Birx said.
WLNE/ABC 6 2020