Dangerously cold wind chills overnight!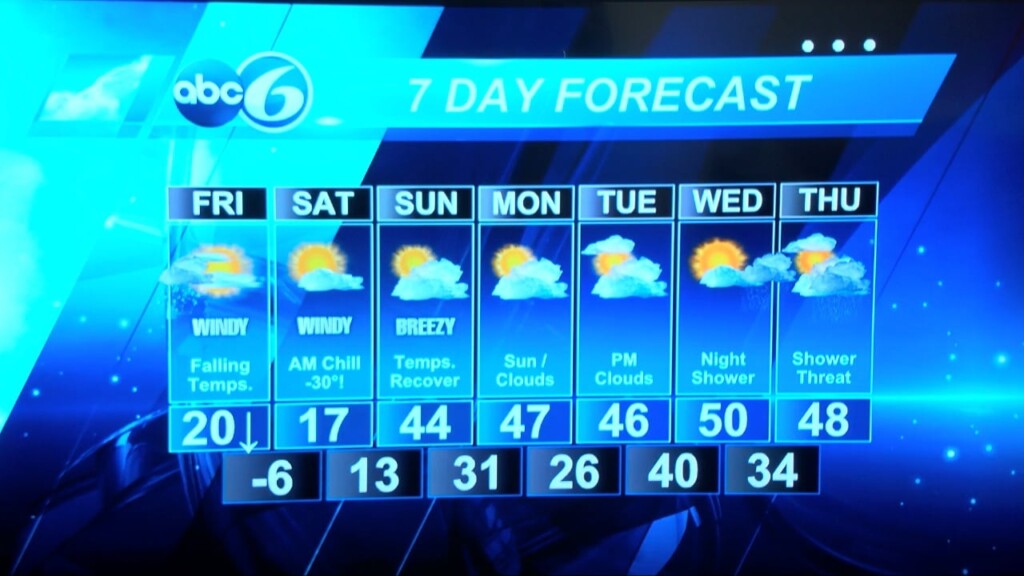 PROVIDENCE, R.I. (WLNE) — The well advertised Arctic air is now upon us. Temperatures started off in the low 30s early this morning and now they're continuing to drop throughout rest of the day accompanied by blustery winds despite a good deal of sunshine.
Winds throughout the day will be gusting 35-40 mph and potentially as much as 45mph overnight. Combine those winds with lows that are going to be dropping below zero and you get dangerously cold wind chills making the air feel as cold as 30-40° BELOW ZERO between 11 p.m. and 6 a.m. overnight!
If you absolutely have to be out at all tonight make sure you are well prepared for this. Frostbite on exposed skin can occur in 15 minutes under these conditions.
The record low temperature for Saturday is -2 from 1918, we are expected to bottom out at -6. This magnitude of cold air was last felt here in during Valentines day in 2016. It will continue to be a very cold day tomorrow with ineffective sunshine so look for highs to only be in the teens, but the winds will slowly relax.
Now, here's the good news, a warming trend quickly returns for the balance of the weekend as highs recover to the low 40s. What a turn around! Then, much like most of this winter has been we will remain in the 40s throughout next week and may even reach 50 by Wednesday. The next threat of precipitation will be rain showers Wednesday night and Thursday.
ABC6 meteorologist Bill Gile
bgile@abc6.com