Daytime Snow Much Worse in MA than RI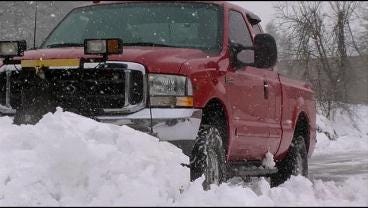 by ABC 6 Reporter Mark Curtis
For plow operators this snow was like Manna from Heaven.
It's been a busy year for them, so a storm in March was a bonus tacked on to everything else this winter.
Joe Mulcahy, a snow plow operator said, "Ah well, the storm a couple of weeks ago was great for business and a lot better than last year. I can't complain that's for sure."
And it's probably a good thing the Patriots don't play in March conditions at Gillette Stadium were almost white–out at times.
ABC6 Reporter Mark Curtis said, "The worst part about this storm is not the accumulation. It's the windy conditions that at times make visibility on the roads very difficult."
The storm was not without problems. Crews in Attleboro had to clean snow and ice off of traffic lights, so people could get through intersections safely.
Aside from the nasty driving conditions, people seemed to be taking the late season snow in stride.
Molly Conway, a Massachusetts driver said,
"At least the salt's down, so, I shoveled a little this morning. It's winter, we live in New England."
Paul Stonis, a Massachusetts driver said, "No not at all. The roads are fine, kids are in school, No problem, ha, ha, ha!"
By early–afternoon, over four inches of snow had fallen in Foxboro and nearby communities. At times there was a mix of rain too, making for a slushy mess, but it could have been a lot worse.
By nightfall, there were seven inches of snow in Foxboro and Mansfield, and four inches in Attleboro.