Body Pulled From New Bedford Waters Identified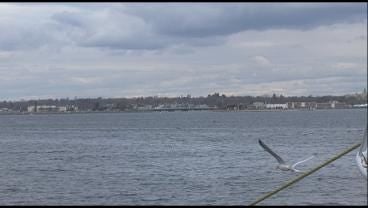 Police say the body they pulled from the waters off Hassey Street Saturday morning is Christopher Martin, 24, of New Bedford.
A call came in around 8 a.m., after Antero Deus, a fisherman, discovered the body floating in the water behind Bergies Seafood.
"I said that seems strange," Deus recalled. "And when I was looking again, I said that is a guy that is dead. He is dead."
Antero only came across the body because it was blocking this pipe that usually pumps water into the lobster tanks where he works.
"I came over here to fix the pump, but then I saw it," Deus said. "I said I can fix the pump, but there is a dead body here and I cannot touch it. I cannot do anything."
Just inches from the water where the body was found, a pair of workers were rebuilding a set of stairs. The workers tell ABC6 News that police found the wood from the stairs ripped off and a couple of life preservers near the scene.
They are all items that someone could have used in their struggle to save Christopher Martin before Antero found him the next morning.
"He had a young face. He was a young kid, but I had never seen him around here before," Deus said.
At this time, police believe it was an accidental drowning.
Martin's body remains at the Medical Examiner's office where an autopsy will be done.