Dead Boston Bomber has Ties to North Kingstown Family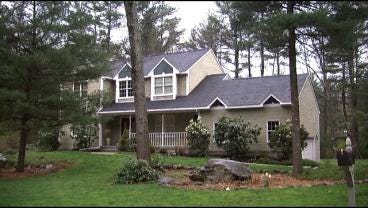 by ABC6 Investigative Reporter Mark Curtis
A house in a quiet North Kingstown neighborhood was a buzz of activity, reporters camped out, law enforcement, too, as investigators linked the home to now deceased Boston bombing suspect Tamerlan Tsarnaev.
The 26 year old married Katherine Russell who lives at the Coriander Lane home, and they have a young child.
Neighbors are stunned.
Paula Gillette, the Russell's neighbor said, "It was always across the street. They were together. You know he had dark hair. That's about as much as I can tell you… "To be so close to home is really surprising. I think everybody is a bit shaken up in the whole neighborhood."
Every now and then the bombing suspect's mother–in–law appeared at the door as reporters knocked.
Just after 6 o'clock the family issued a statement read, by pool reporter Bill Dedman.
The statement said: "Our daughter has lost her husband today, the father of her child. We can't begin to comprehend how this horrible tragedy occurred. In the aftermath of the Patriot's Day horror, we know that we really never know Tamerlan Tsarnaev. Our hearts are sickened by the knowledge of the horror he has inflicted."
ABC6 Investigative Reporter Mark Curtis said, "After issuing remarks expressing the family's sadness over recent events, the Russell family then asked the media and others to respect its privacy at this difficult time."
After watching new of the marathon bombing all week, people in this quiet North Kingstown cul–de–sac, were stunned one of the suspects was married to their neighbor's daughter:
Neighbor Karen Mather said, "We are equally as shocked. We had no idea. They are very, very nice people. We wave all the time. We have no knowledge of any of that."
Now the "Daily Mail of London" broke this story and reports that Katherine Russell converted to Islam when she married Tamerlan Tsarnaev who was killed Thursday night.
Investigators are looking at whether Tsarnaev's radical Islamic beliefs led to the bombing.
We should make it clear – no one in the Russell family is accused of any wrongdoing.